Grahame Campbell
Biography
Grahame Campbell was born in 1943, and grew up in the Sydney suburb of Kyeemagh. He studied engineering at the University of New South Wales while also fostering a love of music, and went on to work for the NSW Railways before joining CMPS, a consultancy where he would eventually rise to become CEO. His later career has involved directorships at CMPS&F, Anaconda Nickel, ACEA, SWR, USC and Iluka Resources. Today he travels extensively, and still plays jazz.
Books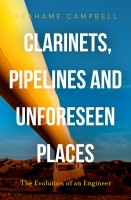 Clarinets, Pipelines and Unforeseen Places: The Evolution of an Engineer
by

Grahame Campbell
In "Clarinets, Pipelines and Unforeseen Places," Grahame Campbell tells the story of a world-spanning career in engineering that took him from the first steps as an undergraduate student all the way to the decision-rooms of power—while playing jazz along the way.
Grahame Campbell's tag cloud