Clyde Wolpe
Biography
Clyde Wolpe is a chess and backgammon coach, and co-author of "The Beginner's Chess Companion". Clyde is the 1985 South African Closed Chess Champion, and also the 2009 South African Open (WBA) Backgammon Champion. He is a regular chouette player and backgammon coach, offering one-on-one coaching over Skype (clydewolpe).

In 1981, Grant Hoffman bought his cousin a Backgammon board for her 21st birthday, because she had worn her first one out by playing so much. Having never played backgammon before and being fascinated by the board, Grant unwrapped it and cajoled a friend to teach him the game in the two days before the birthday. They played every waking hour for the next 48 hours.

Grant won the first contest he entered - the New Zealand Backgammon Champs in 2007. He also came second in the Australian Backgammon Champs the following year. He has just won the New Zealand Backgammon Champs 2013. He is a regular Chouette player who enjoys helping and teaching other players.
Books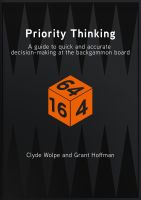 Priority Thinking - A Guide To Quick And Accurate Decision-Making At The Backgammon Board
by

Clyde Wolpe
In the modern world of backgammon, where bots rule and anyone can access the best move at the click of a button, it's refreshing and meaningful to learn how to make critical decisions correctly and quickly, by yourself. Master the principles in this book and you'll confidently be able to find the solution even in the most complex of positions.
Clyde Wolpe's tag cloud