Rosann Greenspan
Biography
ROSANN GREENSPAN has served as the Executive Director of the Center for the Study of Law and Society at the University of California, Berkeley, since 2005. She earned a B.A. from Yale College, an M.A. from the Centre of Criminology at the University of Toronto, and an M.A. and Ph.D. from Berkeley's Jurisprudence & Social Policy Program. She was the Postdoctoral Fellow in Law and Politics at Stanford and a U.S. Supreme Court Fellow.
Where to buy in print
Books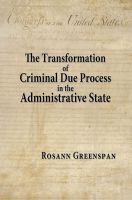 The Transformation of Criminal Due Process in the Administrative State: The Targeted Urban Crime Narcotics Task Force
Classic study in law & society, available to scholars & others in criminal justice, due process & policing. The author reflects: "...it was my first day in the field that the police liaison to the district attorney's probation revocation program exclaimed, 'Forget rights! Forget right to jury! Forget right to bail! There are no rights!' " This book shows how due process became mere administration.
Rosann Greenspan's tag cloud