A. J. James
Biography
A. J. James is a resident of Ontario, Canada, currently devotedly working on the continuation of the Watcher Angels' narratives. Her hobbies include photography, poetry, illustration, yoga, archery, dressage, energy work, recording music, target shooting, and practicing balance with her extra-large rescue dogs. She also plans to become more adept at axe and knife-throwing, long-sword wielding and riding dragons... er, motorcycles.
Where to find A. J. James online
Books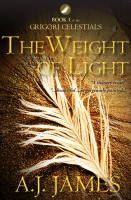 The Weight of Light - Book 1 of the Grigori Celestials
by

A. J. James
Zoe and Arma'ros must locate the few remaining Watchers and Nephilim, and the last Enochian Key to stop them from falling into the enemy's grasp- a Key that will either unlock the Song of Creation – or unleash the utter annihilation of Earth. Their agonizing love must be retraced to expose startling revelations– joy, pain, and the secret agendas of Celestials concealed since the beginning of time.
A. J. James' tag cloud