G.G. Monroe
Biography
G.G. Monroe, (27) script writer, is a full-time student at Full Sail University earning his degree in Creative Writing for Entertainment. He spends most of his time film writing romance, thriller and suspense scripts. Recently, he has taken up writing short stories. Being a veteran, he was previously employed in the United States Army for 8 years. He has always had a passion for writing and wants to make it his full time career. When not taking his writing seriously, you can find him attending film festivals and helping with tutoring other individuals. He also spends time with his spouse Sandra and son Luke. He is currently writing another book "22 Vets" that will be released in 2018.
Books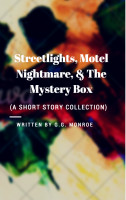 STREETLIGHTS, MOTEL NIGHTMARE, THE MYSTERY BOX
by

G.G. Monroe
Be thrilled with the flash fiction short story collection "STREETLIGHTS, MOTEL NIGHTMARE, AND MYSTER BOX" Author G.G. Monroe has put together. From escaping death of a carjacker to attempted rape in a hotel and a note that can change your life forever. The short stories included in this collection will give you both drama and thrill when reading.
G.G. Monroe's tag cloud