George A. Rogge
Biography
While growing up in Central Wyoming, I was filled with ambition to get a great education and travel the world. I attended Beloit College in Wisconsin, where I mastered the classical texts of Greece, Rome and the Enlightenment, garnering a degree in Classical Civilization with an emphasis in philosophy. Concomitantly, I earned a BS in Chemistry, which I utilized to earn a Ph.D. in Pharmacology from Emory University in Atlanta, GA. My Ph.D. and postdoctoral fellowship investigated the neurobiology of cocaine addiction. At the same time, I acquired further insight into the overall psychology of addiction through a deep understanding of Buddhist and Hindu philosophies. The whole time, I had become intrigued with the use by ancient and contemporary cultures of hallucinogenic substances as "Entheogens" (literally something that brings you closer to God). Psilocybin, mescaline and ayahuasca are typical examples of substances used in transcendental rituals to facilitate meditative insight and awareness. Thus sprung my manuscript and I thank you heartily for reading it! I now practice Buddhism, science, percussion and artful living in Northern California with my wife and child.
Books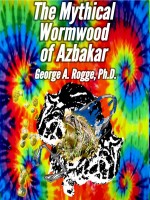 The Mythical Wormwood of Azbakar
by

George A. Rogge
Price:
$0.99 USD.
Words: 66,000.
Language: English.
Published: February 14, 2015
. Categories:
Fiction
»
Fantasy
»
Epic
(5.00)
When the wizard uses his potion of wormwood to heal Papa, Froggy becomes infatuated with the transcendental powers of the drug and abandons his future, family and duties to become a wizard. He uses his powers in the Wizard Wars and aspires to become the Philosopher King with the love of his life Ms. Mousy at his side. What will become of Froggy, though, once the wormwood has him in its grip?
George A. Rogge's tag cloud