Grant Stock
Biography
Grant Stock is currently serving as a high school principal in rural Missouri school district. He received a bachelor's in physics and chemistry from Utah Valley University and began his career in education as a high school science teacher. A love for science and fantasy fiction led Grant to begin writing a book titled The Lords of Alchemy. While writing his book, The Lords of Alchemy, he also taught school, coached basketball, finished his master's degree in education from William Woods University, and raised a family of seven children. He is currently working on his doctorate with Liberty University. Many say that Grant started writing The Lords of Alchemy because he was bored and had nothing else to do.
Where to find Grant Stock online
Books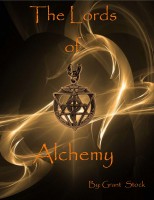 The Lords of Alchemy
by

Grant Stock
Zen Storm finds himself fleeing for his life when his town is attacked by a warrior race known as the Shrakes. Unknown to Zen, he is one of the last descendants of the Lords of Alchemy, who could not only change lead into gold but had the power to transmute all matter. As Zen discovers his heritage he finds himself falling in love, searching for descendants, and fighting to survive.
Grant Stock's tag cloud