G Street Chronicles
Publisher info
G Street Chronicles is operated by George Sherman Hudson, CEO and Shawna A., COO. They come with the realest and rawest uncut tales. Equipped with four divisions this dynamic publishing duo is adding fuel to every fire. Whether you're a reader of contemporary fiction, erotica, street lit, suspense, or romance, they are here to satisfy your needs. They strive to make your reading experience fun and entertaining. G Street Chronicles is a certified Literary Powerhouse.
Where to find G Street Chronicles online
Where to buy in print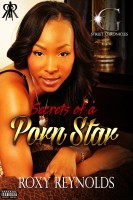 Secrets of a Porn Star (G Street Chronicles Presents)
by

Roxy Reynolds
In nothing but Red Bottoms, Roxy Reynolds takes the erotic lifestyle to another level. Secrets of a Porn Star is filled with glitter, guts and sexuality. Feel the rise of a corporate vixen as she intricately weaves her way from the ghetto streets of South West Philadelphia and the hood trenches of Columbus, Ohio to find herself in front of the flashes and big lights of the camera.