Alexia LaFortune
Biography
Alexia LaFortune MA Developmental Clinical Psychology, MARI, FAMI, is a creative arts therapist, writing coach, and screenwriter. Her personal essays "Beds I Have Known" and "Hairdo from Hell" have been published internationally. She is in private practice and conducts creativity workshops nationally, including the popular series "Eat, Talk, Write." She lives in Los Angeles with her husband -- and in Santa Fe, New Mexico as often as she can.
Books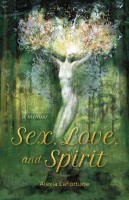 Sex, Love, and Spirit: A Memoir
by

Alexia LaFortune
Sex, Love, and Spirit is Alexia LaFortune's tragicomic journey from the oppression and shame of a Boston Irish Catholic upbringing in the 1950s, through the freefall into the dizzy funk of the rebellious '60s and '70s (including a soul-crushing affair with a famous guy), to her eventual search for spiritual awareness and love.
Alexia LaFortune's tag cloud