Jagannathan Venkatesan
Publisher info
Hi,

I am just a normal guy who happened to come here to help few talented kids publish their first book. If you have 10 minutes, please do read the "The Three Little Pigs And The Big Bad Manager" book to yourself or to your kids. The smashwords link is: https://www.smashwords.com/books/view/539028 . Do take a look at close look at the illustrations!!!!!

And if you have an early reader at your home, please have him / her read it. And absolutely feel free to share this with your friends, family, teachers, school and anyone else who loves reading / appreciating good illustrations.

Have fun.
V Jagannathan.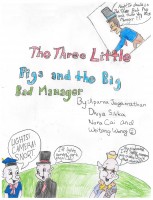 The Three Little Pigs And The Big Bad Manager
by

Aparna Srinidhi Jagannathan

,

Divya Sikka

,

Nora Cai

, &

Weitong Wang
Meet the three little pigs appearing as workers in modern day office! The story & illustration by 4th grade girls, begins with the pigs dealing with a bad boss. The situation worsens considerably and any recovery from here is left to the little pig. He has to transform itself from being timid & shy to being a successful friend maker and a daring adventurer. Read the book to find out more!
Jagannathan Venkatesan's tag cloud