G V Simoni
Biography
gv simoni has worked as a ski instructor, journalist, track and field coach, and public school teacher. His articles have appeared in many small town newspapers as well as Parade Magazine, a feature of The Sunday Oregonian. He enjoys writing in various forms and styles, and has written novels, stories, poems, essays, and a training manual for competitive middle distance running. He lives in the Pacific Northwest with his wife and two elderly collies.
Where to buy in print
Books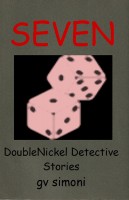 Seven
by

G V Simoni
Koans and killings, mayhem and metaphysics, the DoubleNickel Detective stories serve up the usual mix of characters, clues and conundrums. The main character is a brown paper sack, a mutt of mixed ancestry: his father Japanese, his mother Irish. He is sardonic. He drinks. Not your gentleman sleuth, but a private eye who lines up with the hard-boiled boys.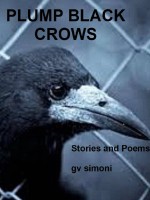 Plump Black Crows, Stories and Poems
by

G V Simoni
Plump Black Crows is a collection of stories and poems all from gv simoni's early work. The book explores the sometimes subtle, often brutal interplay between the creations of nature and the constructs of man. River and mountain, church and state, character strengths and weaknesses all have their moments. Resolution of the conflicts are, as with beauty, bought with the eye of the beholder.
G V Simoni's tag cloud