Hal Duncan
Biography
Scottish author Hal Duncan's debut novel, Vellum, garnered nominations for the Crawford, Locus, BFS and World Fantasy awards, and won the Gaylactic Spectrum, Kurd Lasswitz and Tähtivaeltaja awards. He's since published the sequel, Ink, the novella Escape from Hell!, various short stories, a poetry collection, Songs for the Devil and Death, and two chapbooks, The A-Z of the Fantastic City from Small Beer Press and the self-published Errata.
Where to buy in print
Books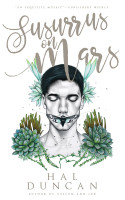 Susurrus on Mars
by

Hal Duncan
This novella-length collection of Erehwynan Idylls offers readers an indulgent and weird agglomeration of randy boys and revelations, as the embodiment of a small breeze--actually the gene-spliced child of the gods Zephyros and Ares--flirts and seduces fleshlings on a terraformed future Mars. Hal Duncan's acclaimed style is an erudite retelling of Greek myth.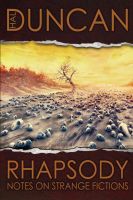 Rhapsody: Notes on Strange Fictions
by

Hal Duncan
Acclaimed author & critic Hal Duncan turns his analytic eye towards the development and current state of speculative fiction in the pages of Rhapsody. Duncan's trademark wry humor and suffer-no-fools approach to critiquing the genre will make this book more than a resource for students of the field—anyone who enjoys reading tales of the fantastical and strange can find Duncan's insight worthwhile.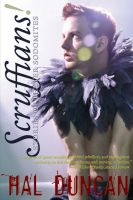 Scruffians! Stories of Better Sodomites
by

Hal Duncan
Hal Duncan's world of scruffians and scamps and sodomites is filled with the gay pirate gods of Love and Death, immortal scoundrels, and young men who find themselves forced to become villains. But who amongst us does not adore a gamin antihero? These fantastical tales from the fringes of an imaginative realm of supernatural fairies and human fey will captivate the reader.
Hal Duncan's tag cloud