Halo e-cigarettes
Biography
The UK's Premium Electronic Cigarette - Discover the cheaper, no tar, no tobacco alternative to smoking cigarettes
Where to find Halo e-cigarettes online
Videos
Still smoking cigarettes?
Halo Electronic Cigarettes, the 75% cheaper, no tar, no tobacco alternative to smoking. You could be saving over £1600.00 a year as a 20 a day smoker. Electronic cigarettes contain none of the harmful chemicals found in traditional tobacco based products. Halo the UK's premium Electronic Cigarette. Halo e-cigarettes are the most authentic tobacco alternative as they look, taste and feel just like a cigarette.
Books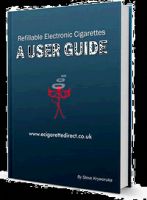 Electronic Cigarettes - A User Guide
by

Halo e-cigarettes
About The Electronic Cigarette Cigarettes kill millions of people a year. One of these people happened to be the father of a Chinese inventor, entrepreneur and pharmacist, Hon Lik. Grief-stricken by the death of his father from lung-cancer, Hon Lik set about creating an alternative to the tobacco cigarette – an alternative that would change the lives of tens of thousands of people.
Halo e-cigarettes' tag cloud