Hans Boos
Biography
Hans E.A. Boos, born and raised in Trinidad, West Indies, finished his formal university education in Scotland, is a distingished zoologist and scientific writer. His book, Snakes of Trinidad and Tobago, published by Texas A&M University Press, is available in hardback on Amazon.com.
For more than twenty years, Hans was Curator of Trinidad's Emperor Valley Zoo, during which time he not only rebuilt the entire zoo, literally from the ground up, but successfully bred many endangered or threatened species, including several World Firsts for breeding in captivity: Amazon River Turtles (endangered species), Yellow-Headed Amazon Parrots (protected species), and Australian Carpet Pythons (threatened species).
Throughout South America and the West Indies he has led many expeditions searching for unusual zoo specimens; is a member of numerous worldwide professional zoological organizations, including the Royal Victoria Institute, American Association of Zoos, Parks and Aquariums, and the Societas Europaea Herpetologica; author of well over one-hundred scientific papers; and now, in the heyday of his "retirement", he continues to lead wilderness tours in Trinidad and Tobago through his company, Bushmaster Treks and Tours.
Other than PARASITES, Hans is the author of a screenplay, The Haunting of Avril (as yet unfilmed), and the aforementioned scientific papers. He continues to live in Trinidad, with occasional trips to Tobago, St. Lucia, Grenada, Barbados, Guyana, and Venezuela.
Books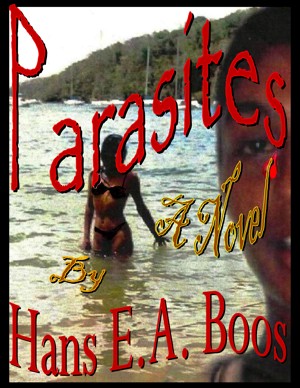 Parasites
by

Hans Boos
A thriller taking place on Trinidad, Parasites features an all-too-human hero and a sexy heroine battling a dangerously hostile new species: microscopic mammals that infest and breed in untold numbers inside human brains. Part fact, part sci-fi, part detective story, and intensely erotic throughout, this is the dark underbelly of Trinidad that tourists never see. Come for the ride, if you dare.
Hans Boos' tag cloud