Hansel Sanchez
Biography
Born in South America and raised in the U.S., Hansel Sanchez is a young writer who loves children, reading, writing and animated movies. She's been a teacher in the Sunday school program at her church for the past four years and since then, her passion for the children's ministry has grown. She had been asking God to give her a story for a children's book and finally, one morning she woke up excited with the story in her head. Writing this book has been an amazing adventure for her and she plans to keep on writing. Currently, Hansel Sanchez resides in Florida and has been blessed with a lovely husband and her two dogs.
Books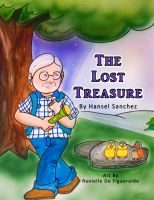 The Lost Treasure
by

Hansel Sanchez
(5.00 from 1 review)
The Lost Treasure tells the story of Emmanuel, a very wise man whose wishes turn into beautiful pearls, which represent us, God's children. Then, one night, an evil man steals the pearls away and hides them in the field. Now it's up to Emmanuel to find them and most importantly, be willing to sacrifice and pay the price for them. This story is based on two of Jesus parables.
Hansel Sanchez's tag cloud