Teresa Heaton
Biography
Teresa B. Heaton came with the gift of a vivid imagination. She was creating plays and stories long before she could use a pencil. Today, she lives in a tiny town in the mountains of Southern Utah with her husband of forty-odd years, Dennis.
She is also a mom, a grandmother and a great-gram. She enjoys all her families living quite close and all the encouragement they give her. She is a doll artist, a Shakespeare enthusiast, likes to quote old movies and is an avid reader.
Books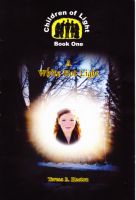 A White, Hot Light
by

Teresa Heaton
Introducing Children of Light series, Book One: A White, Hot Light. All Children of Light are born with special abilities: One that enables them to leave the physical body behind and travel in "essence-state" to help others in times of natural disasters and, sometimes, personal crisis. Sam, Dani, Arie, Gus and Zee belong to the same Cluster. Meet the Dark someone obsessed with them.
Teresa Heaton's tag cloud