Hariharan Iyer
Biography
Hariharan Iyer is a seasoned Learning & Development professional with over 25 years of training experience. He is a multi-faceted personality with varied interests – speaking, training, writing and `bathroom singing`. He is popularly referred to as `The Enter-TrainerTM due to his entertaining style of training. This is his fourth book and the first in the fiction genre. He regularly writes a blog under the name – bolharrybol.blogspot.com. He can be reached on hariharan@theentertrainer.in.
Books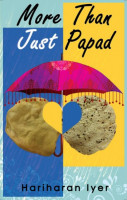 More than Just Papad
by

Hariharan Iyer
More Than Just Papad is a light-hearted yet insightful cross-cultural love story between a Sindhi girl Mona and a TamBrahm Iyer boy Srikkanth. Their emotions for each other take shape in the eerie backdrop of pouring rains in Mumbai...
Hariharan Iyer's tag cloud