Harry C. Doolittle
Biography
Harry C. Doolittle was born September 17, 1923 in Chicago. He grew up in Winnetka, a Chicago suburb, and graduated from Northwestern University. Doolittle is a self-taught artist who began painting in 1969 while a copywriter/creative director at some of America's leading advertising agencies. This is Doolittle's first book.
Where to find Harry C. Doolittle online
Books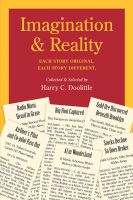 Imagination & Reality
by

Harry C. Doolittle
Each story different. Each story original. An anthology of twenty tales collected and selected by Doolittle. The author makes use of real locations that readers will be able to recognize though the characters and stories are fictional. He employs satire to cleverly present life's sometimes absurd realities, wrapped in imaginative tales that will either draw out a laugh or provoke thought.
Harry C. Doolittle's tag cloud