JJ McKeever
Biography
JJ McKeever loves to weave together stories full of adventure, intrigue, and mystery. A skilled ghostwriter and editor, JJ loves the opportunity to entertain and thrill readers with his own novels. Harry Hid It added another dimension to the writing process as Mr. McKeever was very conscious of the fact that he was matching wits with everyone who reads the book. Creating a story that entertains and keeps the reader on the edge of his or her seat while they figure out the mystery of where Harry stashed his loot was a fun challenge.

JJ McKeever lives in New Jersey and enjoys helping other writers with their work in both fiction and nonfiction. He is working on the next Harry book. You can find out more about him on his website: www.jjwriting-consulting.com.
Videos
Harry Hid It
A fun book to read with a real opportunity to win money...if you can unravel the clues!
Books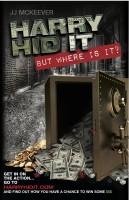 Harry Hid It: But Where Is It?
by

JJ McKeever
Harry Hid It is a rollicking adventure full of action, romance, and intrigue. Follow the exploits of Harry Strickland and his team as they orchestrate a string of crimes that soon have the cops, the FBI, and other crooks after them. In addition, the reader that figures out where Harry stashes away the take from his crimes can win the contest potion of the book…the prize money can reach $500,000!
JJ McKeever's tag cloud