Howard Brad Halverson
Biography
A recent graduate from San Francisco State University with a BA in English Literature, Howard Brad Halverson is now turning to authorship. Originally from Northern Utah, Howard has also traveled extensively in many different underground music groups or solo and even a semester abroad in Växjö Sweden. Howard is influenced largely by modernism and seeks to maintain a deconstructive approach to all projects. With his fledgling novella, The End and the Echo, expect a varied stumbling through human thought and experience, often complimented with cultural criticism. Howard aspires to continue writing as well as being involved with many other creative or expressive endeavors.
Books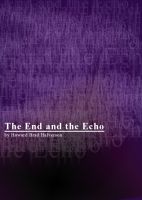 The End and the Echo
by

Howard Brad Halverson
Brandon's disparate engagements with Gillian are sporadically laced together to emphasize memory's precarious nature, matching an instability of Brandon's desire for Gillian. The narrative winds through years of incidents, some endearing, others immersed in betrayal. The settings shifting in vivid detail of love gone awry.
Howard Brad Halverson's tag cloud