HB Kravets
Biography
HB Kravets was born and raised in Boston. Along with millions of other Americans, he served his country in WW II. He is a decorated veteran who flew B17 bombers and was shot down three times. He evaded the Germans once; another time he fought with the French underground. As a result of that service, he recently received France's historic "Legion of Honor" decoration. The final time that he was shot down he became a POW, but eventually escaped. Returning from the war, after nearly a year in a veterans hospital recovering from wounds, HB Kravets embarked on a long and successful business career. He was president of the Eden Roc Hotel in Miami Beach. Learning to speak Japanese, he consulted for many Japanese companies including Pentax, Canon, and Toyota, as well as American companies, too. He has also served on the board of the Kennedy Business School at Harvard University. HB Kravets's first book, True North, recounts some of his wartime experiences combined with a fictionalized story of a soldier's struggle to deal with the horrors of combat while living in the civilian world. He is married to his wife, Julie, and has two children, four grandchildren, and one great granddaughter.
Books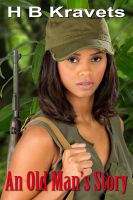 An Old Man's Story
by

HB Kravets
(5.00 from 2 reviews)
Mike, an old man now, recounts the events from his younger life. He tells the story of how he met Angelina, a beautiful Cuban revolutionary. Through several twists and turns, you'll read a story of love, passion, separation, and desperation. Viva la revolucion!
HB Kravets' tag cloud