Heather Lynne Shida
Biography
Heather grew up in Aurora, Colorado and attended the University of Denver. Her time in high school and university was spent competing in speech. Shortly before graduating she met her husband on AOL. They moved back to his home country of Japan after graduation and have lived there for the past 15 plus years. Almost two years were spent living in Washington D.C. where Heather worked at NSTA. She loved working with the wonderful people there but the experience made her realize how much she needed to be with her family. Upon returning to Japan, Heather took to her keyboard and began writing. Since her fifth grade teacher encouraged her to write for the school library, Heather has enjoyed writing. Now she made it a priority and looks forward to writing more in the future.
Where to find Heather Lynne Shida online
Books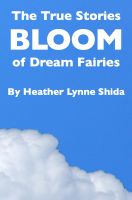 The True Stories of Dream Fairies: Bloom
by

Heather Lynne Shida
Beatrice Featherstone is a dream fairy. Dream fairies deliver dreams to humans. But as each year passes for Bea and her friends, they discover that their life on a secluded island floating above us is full of secrets. From their adventure to the Edge of the island as kids, to finishing school when they are older, each experience leaves new questions unanswered.
Heather Lynne Shida's tag cloud