Steven Martin
Biography
After I left my long career as a High School teacher specialising in educating bright kids, I went on to complete my PhD. Now I have a portfolio of activities which include teaching pre-service teachers in some of Perth's universities, tutoring high school students in English/Critical Thinking and working as a consultant to schools wishing to meet their responsibilities to teach Critical Thinking as described in The Australian National Curriculum.
Books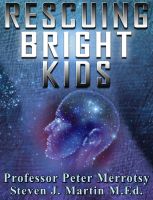 Rescuing Bright Kids
by

Steven Martin
an essential reading guide for anyone who suspects their children/students are bright but not showing it, Rescuing Bright Kids includes activities that have been trialled by research and shown to bring out the best of thinking in any child as well as advice about how to deal with others who may have a say after you do, such as the school etc. Rescuing Bright Kids skills you to be the rescuer!
Steven Martin's tag cloud