John Heidt
Biography
The Rev. Dr. John H. Heidt (1933-2009) was educated at Yale, Nashotah House seminary and Oxford. In retirement he served as Canon Theologian for the Diocese of Fort Worth, and was the founding Editor of Forward in Christ magazine. Throughout his ordained life he tirelessly proclaimed, defended and lived the catholic faith as received by Anglicanism.
Books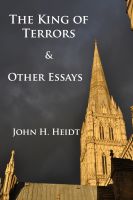 The King of Terrors and Other Essays
Fr. John Heidt elucidates and proclaims catholic orthodoxy as seen through the lens of the Anglican tradition. But this collection of essays is far more than unashamed apologetic. It is a reflection on the nature of the Church herself, the mysteries of the faith, and an examination of the Catholic Movement within Anglicanism.
John Heidt's tag cloud