Commander James Bondage
Publisher info
Commander James Bondage is a retired criminal defense attorney, and the father of two children and a chinchilla. He has a Master's Degree in European History and, under a pseudonym, has written several alternate histories with very little sexual content. His legal experience accounts for many of the details of his "By Judicial Decree" series, and his background in military history was the source for much of the content of the "Cadet" books. He is an avid chess-player, golfer and life-long science fiction addict.
Smashwords Interview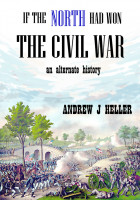 If the North Had Won the Civil War
by

Andrew Heller
An alternate history set in a nightmarish Confederacy, where anyone with a drop of Black blood is confined to "Preserve", half of the book is the story of a young history professor who decides to challenge the system by writing a book that will challenge the status quo, and maybe land him in jail. His book, an historically detailed alternate history of the war, constitutes the other half.
Commander James Bondage's tag cloud