Shelby Owen
Biography
The work of L.C. CHANLER has been used by many self help consultants across the United States. Work authored by L.C. include Turning Grief into Gratitude, Finding Love in the Summer of Life, Happiness on a Budget, Who Wants to be Normal (Spark up Your Life), and Eat Your Heart Out (Happy and Loving It). L.C. is a full time author and life coach. Winters give L.C. inspiration on the beaches in Kona, Hawaii, while summers in Taos, New Mexico provide margaritas, good times with friends, and relaxation.
Books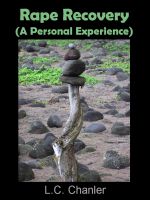 Rape Recovery: A Personal Experience
by

Shelby Owen
In this unique book, L.C. Chanler exposes her past giving readers an inside look to her rape. It includes intimate details of her attack, and her recovery process. This book offers alternatives and advice to those who have gone through similar circumstances and is great reading for those who just want to help and understand a rape victim.
Shelby Owen's tag cloud