Marcel Hénaff
Biography
Philosophe et anthropologue, il est professeur à l'Université de Californie à San Diego. Agrégé et docteur en philosophie, il a étudié l'ethnologie à l'Université d'Abidjan et a enseigné à l'Université de Copenhague, au Collège international de philosophie à Paris, à l'Université Johns Hopkins et à celle de Kyoto. Il est l'auteur de Sade, l'invention du corps libertin (1978) ; de Claude Lévi-Strauss et l'anthropologie structurale (1991 ; 2000) ; de Public Space and Democracry, avec Tracy Strong (2001) et de l'ouvrage Le Prix de la vérité. Le don (2002).
Where to buy in print
Books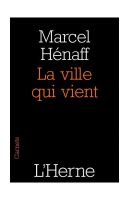 La ville qui vient
by

Marcel Hénaff
Plus notre planète s'urbanise, plus la forme classique de la ville disparaît. Mais qu'entendre par forme classique ? Qu'est-ce qui l'a fait évoluer ? Par ses conditions d'apparition, par sa finalité politique et religieuse la ville se constitue comme monument visant à donner une image du ciel et une image du ciel et un résumé de l'univers.
Marcel Hénaff's tag cloud