Henry Walczyk
Biography
Henry Walczyk was born in year 1935, in Poland. After 37 years, he left Poland for work in Mexico. Later he worked in the textile mill and is a textile engineer. After three years of working in Mexico, he moved to the United States. He settled down in Dalton, Georgia, later moved to Athens, Georgia, followed by a move to Greensboro, Georgia.

I walk, swim, ride my bicycle and exercise at the wellness center, but I also take time for meditation, relaxation, soft music and play piano, as well as reading and walking. I also write books and stories. Besides this book, I wrote a book titled The Best of Both Worlds — in Basketball. I was a player for 16 years and a coach for 22 years in Poland, Mexico and the USA.

I had quite a lot of success, mainly because of a different form of coaching. I want to share this with others. The basketball book is not published yet, but it is almost finished. I miss taking pictures, which I do as well. I also started to write a book on business.

Besides this, I am writing my memoirs and some short stories — I have over 60 of these. Some of them were printed in the local newspaper. The subjects are different and they are usually about they experiences I had on my many trips. They are humorous stories. I also wrote two stories contained in the book, Imagination. They are: My Long Way to America and Visiting Eva.

I never thought that I would do some of the things that I do now, like meditation, chi-gong, relaxation, acupressure, acupuncture, etc., but it is beneficial and highly recommended for my body, so I do it. I also take frequent breaks from my work and exercise. I am glad that I do it. It helps my health.

Henry and his wife, Teresa, live in Georgia.
Videos
EECP Procedure
Henry Walczyk gets an EECP treatment. This video goes along with his new ebook titled, The MIracle of Getting a Second Chance After Congestive Heart Failure" available at Smashwords.com
Books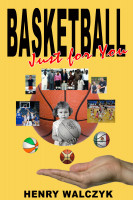 Basketball Just for You
by

Henry Walczyk
This book is a motivational teaching tool for both coaches and players and shows the beauty of the unique sport of basketball. There is an emphasis on the importance of health, educational and discipline as well as strategies and techniques essential to playing a good game.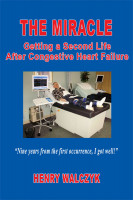 The Miracle - Getting A Second Life After Congestive Heart Failure
by

Henry Walczyk
"Nine years from the first occurrence of Congestive Heart Failure, I got well!" This book is about Congestive Heart Failure: Survival – Recuperation – Prevention Doctors gave me just one year to live (10 years ago). My ejection fraction was just 10%. Now it is 55% - 60%, no defibrillator or pacemaker was implanted. Doctors recommended a heart transplant.
Henry Walczyk's tag cloud