Havatzelet Farber-Sheffer
Biography
Havatzelet Farber-Sheffer: A Few Words About me:
Firstly: my name: "Havatzelet" translates in English into the name of a flower: "Lily of the Sharon" – straight from the Bible (Old Testament). I adopted the Hebrew family name my sons chose as my second family name, so now I carry 2 family names.
I was born in Jerusalem, and got my M.A. degree (Sociology & Urban Planning) from the Hebrew University.
I worked many years in the Jerusalem City-Council, part of this time as director of the public Art Library of the city, in the famous Ticho House.
Besides my creative writing, I work as a free-lance literary critic for a Hebrew weekly ("Makor-Rishon").
"St Luke and the Smile of the Madonna" is my second book.
My first book "And Where is Madame Cezanne?" (in Hebrew) was published by Carmel Publishing LTD, Jerusalem, in 2006.
I'm the proud mother of 3 sons and grandmother of ten: 3 girls and 7 boys.
I live in a small town not far from Tel-Aviv.
Books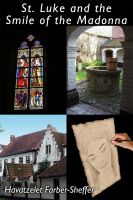 St. Luke and the Smile of the Madonna
by

Havatzelet Farber-Sheffer
Price:
$3.99 USD.
Words: 101,350.
Language: English.
Published: May 19, 2011
. Categories:
Fiction
»
Historical
»
General
When Abbess Katrina dies under suspicious circumstances and an antique preparatory drawing of a famous Renaissance painting is discovered in her desk,the police search for a possible murderer, while art-historian Irma van Doern seeks answers to questions about the drawing: who was the model for the Madonna? did the painter himself model as the saint? what happened between painter and model?
Havatzelet Farber-Sheffer's tag cloud