hoang tran
Biography
I'm a dual citizen of vietnam and america. I'm a passionate about the environment. and dedicate my life to the protection and preservation of our planet for future generations. I believe and strive in finding balance between modernization and environmentalism. It can be done. I believe we can be a prosperous and advance human race yet at the same time, living in harmony with our environment and ecosystem. I love the outdoor. I love sport. I love dancing, singing, and the arts.
Books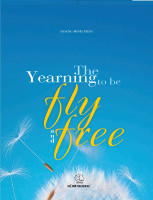 The Yearning to Be Free and Fly
by

hoang tran
this is a poetry book about love for the environment and about family and friendship and about the hardship and despair of living in poverty in human society.
hoang tran's tag cloud