Howie Siegel
Biography
Howie Siegel, an attoney and former NBC legal commentator, spent 35 years establishing a national reputation as a litigation specialist, handling and winning controversial cases that the established legal community said could not be won. He appeared on 60 Minutes, 60 Minutes II, Larry King Live, The Today Show, Dateline, and PBS's Inside the Law. Mr. Siegel led a litigation team that won a landmark First Amendment establishing that a publisher could be held liable for selling instruction manuals that teach criminal and terrorist acts when those manuals are used to kill and injure innocent people. The four-year battle that took him to the Supreme Court has been chronicled in the book, Deliberate Intent, by Rod Smolla, and made into a movie starring Timothy Hutton and Ron Rifkin. Fifteen years before the current vogue of handgun litigation, Mr. Siegel stood up to the National Rifle Association and won the first court victory against an NRA supported defendant. In a precedent-setting decision, the Court ruled that foreign Saturday night special handgun manufacturers could be held liable to American victims of crime. His accomplishments have sparked favorable editorials in The Washington Post, and columns in the New York Times, Wall Street Journal, Time Magazine, The L.A. Times and the Denver Post as well as newspapers in Australia, Japan, Great Britain, France and Germany. He resides in Johns Island, South Carolina with his wife and two dogs, where he writes and searches for the secret of golf.
Where to find Howie Siegel online
Books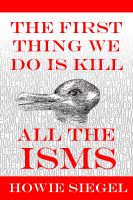 The First Thing We Do Is Kill All The Isms
by

Howie Siegel
Kill All the Isms is a Jonathan Swift meets George Carlin approach to the intrinsic absurdity of ideologies – secular and religious – and the venality, megalomania and utter shamelessness of their salesmen. Communism, Conservatism, Patriotism, Pacifism, Evangelicalism, Catholicism – Kill all the Isms puts forth the case that the only good ism is a dead ism.
Howie Siegel's tag cloud