Dennis Hou
Biography
If you have any questions, feel free to contact me at dennishou8@hotmail.com. For more information about me, feel free to check out my site at http://dhou4.5gbfree.com/aboutme.html

If you have read any sample that you like, feel free to email me telling me what you liked. I might send you a free copy of whatever it is you wanct to read, just email me the format you would like included.
Books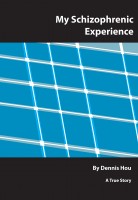 My Schizophrenic Experience
by

Dennis Hou
This book is a written account of my personal experience with schizophrenia. The book starts from the time when I heard the first voice, to after the discharge of my third hospitalization. The fact that schizophrenia is diagnosed primarily by observation meant that the psychiatrist thought I was well when I was really not, leading to an extremely long journey.
Dennis Hou's tag cloud