Howard Schwach
Biography
Howard Schwach was already a published author with several young adult educational books under his belt as well as a retired teacher and community newspaper editor when he turned on his police scanner on the morning of November 12, 2001 and heard the first news that a large commercial aircraft had crashed four blocks from his home.
So began a five-year trek through the intricacies of eyewitness testimony, crime scene records, NTSB investigations, aircraft company machinations and rumors that the aircraft crashed not because the poor flying skills of the first officer, but by an act of terrorism.
Schwach's first adult novel posits a terrorist act witnessed by a dead man and an investigation by local police that cannot be accepted by those who want to keep the planes flying.
Books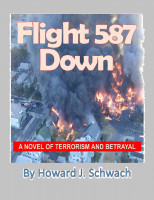 Flight 587 Down
by

Howard Schwach
Ron Staller was a happy man. The retired teacher had become the publisher of the "Beachcomber," a community newspaper in New York City shortly before September 11, 2001 and had led his paper's coverage of the terrorist attack and the 75 locals who died in that attack. Now, his world literally fell in around him.
Howard Schwach's tag cloud