Hunter Shotz
Publisher info
Hunter is the alter-ego of an upstanding young man who grew up in Brazil before coming to America to find his fame and fortune. He's still looking. In the meantime, he writes about things he finds interesting- mainly sex. Frequently accused of being a male whore (he is not; whores charge money) Hunter spends most of his free time finishing his education. When he's not busy seducing classmates, professors, or strangers over the Internet, he occasionally finds time to write.
Smashwords Interview
Books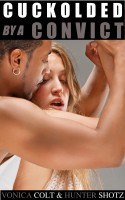 Cuckolded By A Convict
by

Vonica Colt

&

Hunter Shotz
Mark hasn't been the best husband to Katie. She's unhappy and unfulfilled. Tyrese is about to change that. He's spent the last ten years perfecting his body and dreaming of the day when he could get his hands on Katie, and now that he has her, he's going to make sure she is pleased and her husband is punished.
Hunter Shotz's tag cloud