Bryan Jones
Biography
I am a lover of words, whether written or spoken. And as a native of Louisiana, the different dialects common to the state has always intrigued me. The Hurricane Season is my first Book and some of those dialects appears on the pages.

I'm married and a father of three. My hobbies includes playing Chess,Gardening and reading.

I look forward to bringing more stories to life and it's my hope that you will enjoy those stories.
Books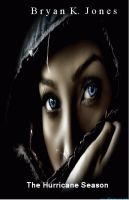 The Hurricane Season
by

Bryan Jones
From June to November, its the Hurricane Season in New Orleans. Nearly five years after the Notorious Katrina devastated the city,talk is rampant about a murder that has shaken the foundation of the religious community. Attorney Toran Marchand is hired to defend the accused. The Hurricane season is a bonafide mystery, with drama raging like the name of the powerful storm denoted in the title.
Bryan Jones' tag cloud