husains4ever
Biography
Mr. Iftikhar Husain, recipient of Governor of New Jersey Teacher Recognition Award 2005-06, nominee for the President of United State Award 2006. He authored two books "Visual Math for New Jersey State Exam" and "Mathematics with Creative Designs". He has participated in many local, regional, state, national, and international level mathematics conferences like AMTNJ of New Jersey, AMTNY of New York, AMTNE of MA, T3, and NCTM.
He has his Master of Science (Physics) degree from Aligarh Muslim University in India and currently working as a mathematics teacher at the University High School in Newark, New Jersey.
He creates interest in the learning process by presenting mathematical concepts visually; easy to understand for life. Teachers of all grade levels find the tool useful for their individual class needs. Mathematics becomes lively to the parents, students, and teachers.
Books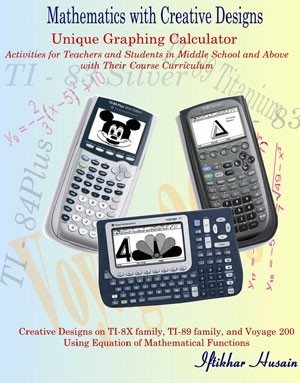 Mathematics with Creative Designs on a Graphing TI - Calculator, The Beginner's Worksheet
by

husains4ever
You can learn how to create a mathematical design on a TI-83, TI-84, TI-84 Plus, TI-Inspire, and more TI- Graphing Calculators using equations of mathematical functions.
husains4ever's tag cloud