J. J. Tawes
Biography
Stories are where I live, whether they be mine or another's, real or fiction, the weirder the better. Stories will always be my true love. I first tried writing a book over ten years ago, but lost interest after completing only about eighty pages. It was good, but not good enough. After a decade of living a storied life, I finally feel qualified to let loose my creative juices on the world of literature. In that decade, I lived as drug kingpin with fifty employees, a professional gambler who could easily win $15k in an hour at Blackjack, & I was even broke & homeless for a little bit, after losing someone to insanity—causing me to self-destruct in nearly every way possible. After all that, I went to prison for a few months. Now, a couple years later, I am publishing the first book in my slightly scifi, serial killer series. Life goes interesting places.
Where to find J. J. Tawes online
Books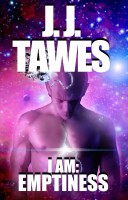 I Am: Emptiness
by

J. J. Tawes
(5.00 from 1 review)
All of these statements are true about the story; they are also misleading: A serial killer remains active around the country for years, until he kills a college girl in his home city. The girl's friend enlists the help of an ex-soldier, turned heroin addict, to help find out what happened to her closest friend.
J. J. Tawes' tag cloud