Ian G. Watson
Biography
Ian Watson is a whimsical writer with a great sense of humour. An avid cyclist for most of his life, Ian is known for writing amusingly informative guides to cycling in Ontario. His natural bent is researching and crafting accurate historical novels but he has recently ventured into writing in the fantasy genre. Ian has written many short stories about his favourite annoyance, a guy known as K-I-A (The Know-It-All). Check out some of K-I-A's adventures on his website.
Where to find Ian G. Watson online
Books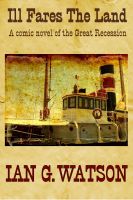 Ill Fares the Land
by

Ian G. Watson
Two shady characters, working to revitalise the economy, conspire with a pair of old draft dodgers living in the swamps since 1942. Using sightings of unusual phenomena in the swamps and peat bogs they provide 'evidence' for the press and paleontologists in the form of several perfectly preserved corpses, ancient and modern.
Ian G. Watson's tag cloud