Lucille Milo
Biography
A native Texan, grandmother and crafter. I love creating and designing things. Crochet is relaxing for me so with that it's all about loving what you do. I love watching my work develop sometimes I have no idea what I'm go to make. It just happens! Though and idea will overwhelm my thoughts and I have to make it. That goes for all of my craft ideas. I enjoy pencil drawing just about as much as sewing which is equal to them all. I don't have time enough for my crafts, I have to stay up and work a little here and there. What's worse I have all these projects I want to try. A crafter from my heart. It's so rewarding when people like my work. My biggest challenge was to do my pattern book. Writing the patterns were challenging enough because I don't know what direct to go with a design sometimes, so when I complete it I would have to repeat the possess a few times to get it down. So time consuming is an understatement for putting together the over pattern book with picture guides. I'm a multi-task type person anyways so just getting it done was the ultimate goal. I'm proud of my ebook I pray I can produce a few more in my life. Thanks for reading!
Books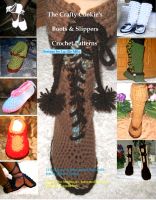 The Crafty Cookie's Boots & Slippers Crochet Patterns
by

Lucille Milo
Twelve crochet patterns in written instructions with picture guides for visual instructions. Size for children and adults included. Easy to read and follow along. Excellent project for beginners. Something for the entire family.
Lucille Milo's tag cloud