David Fanning
Biography
David Fanning is a software consultant, author, and part-time wilderness ranger living in Fort Collins, Colorado. His job sometimes takes him to far flung locations around the world, where he tries to fit a bit of adventure into his free time. His idea of a perfect vacation is to end up in some Godforsaken place where no tourist would want to be seen. He speaks two or three languages, all poorly.
Where to find David Fanning online
Books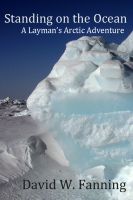 Standing on the Ocean: A Layman's Arctic Adventure
Thin ice and polar bears are only two of the dangers of working on the ice in the middle of the Arctic Ocean. Journalist David Fanning's funny and detailed account of a month spent doing polar research with a small team of oceanographers is sure to convince you to spend your own holiday adventures in a warmer location.
David Fanning's tag cloud