Katrina Ramos Atienza
Biography
Katrina Ramos Atienza, born and bred in Manila, Philippines, has been writing all her life. She's worked in the fields of PR and corporate communications while blogging, freelancing and writing fiction. Four chick lit novels (Pink Shoes, 2006; The Hagette, 2006; If the Shoe Fits, 2008 and Shoes Off, 2010) are available in paperback in the Philippines, while her earlier short fiction works have been published in Philippine publications and collected in the Growing Up Filipino II anthology. Well Played (2013) is her first independently published novel. She graduated from the University of the Philippines at Los Baños and is married with two kids.
Where to find Katrina Ramos Atienza online
Books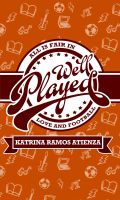 Well Played
What happens when football (soccer) varsity scholar Patrice crosses paths with stuck-up rich kid Paul? Can the laws of attraction overcome the prejudices of first impressions? Sparks fly as parties, intrigues and the pressures of academic life swirl in this modern-day retelling of Pride & Prejudice.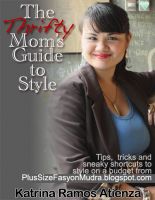 The Thrifty Mom's Guide to Style
Katrina Ramos Atienza started her Plus Size Fasyon Mudra project and blog to motivate her on her return to work after having her second baby. Compiled in this Thrifty Mom's Guide are the practical tips and inspirations that helped this busy working mom rediscover her passion for style.
Katrina Ramos Atienza's tag cloud