Bojan Miladinovic
Biography
After 37 years of observing and analyzing the world that surrounds him, Bojan started to convert his observations into novels. Bojan lives in Kraljevo, a small town in Central Serbia, where he observes, analyzes and writes. This is not his first novel written in Serbian, but is definitely the first one translated to English.
Books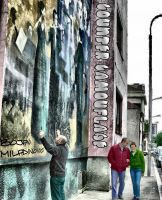 Counter Camouflage : Serbian urban story
by

Bojan Miladinovic
Incapacitating a home alarm makes you a skillful thief. Creating an alarm which can be incapacitated by special remote and installing it - makes you skillful and a very impudent thief.
Bojan Miladinovic's tag cloud