Inba Vignesh
Biography
He is not a literary pop star or a paperback king. Time magazine didn't name him amongst the '100 most influential people in the world', for that matter Forbes didn't include his name in the top 50 celebrity list either. He didn't take the literary world by any storm or Tsunami. The Guardian, Daily Telegraph and Washington Post has no idea whatsoever, about his existence. His works have never been reviewed by any leading newspapers or blogs in the country as they are too busy covering and posting about the already in-famous authors respectively. His books have never been fastest selling in the past and most importantly they have not sold over a million copies, or had any international releases, or entered the 100 crore club. His novels have not been adapted into successful films. What's more, they have not been translated into major languages thus far either. He has neither been awarded with any kind of literary award, nor a popular reader's choice award. He has never been the chief guest for any literature festival… in fact; he has never even attended one! He is no Paulo Coelho of the east or Dan Brown of India, or next someone… he is just Inba Vignesh, the author of Law of Jiluk. He has never been praised or criticized by critics, the truth to be told is, no one knows him in the first place nor does he have any idea about the so called critics. His Facebook page doesn't have a million likes nor does his twitter handle have a million followers. He has joined the Instagram very recently. No advertising agency, no PR endorsement or celebrity appearance during the book launches and finally, his books have never been listed in the bestsellers list nor are they available in all the leading book stores.
Despite the aforementioned, if this book has somehow found its way to reach you, then, he has made it!
Books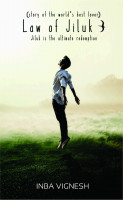 Law of Jiluk - 3
by

Inba Vignesh
Welcome to Law of Jiluk – Jiluk is the ultimate redemption, the concluding part of the bestselling Jiluk series. ​ By the way, what is Jiluk? ​ The quest ends...
Inba Vignesh's tag cloud