Mark Mullinax
Biography
Mark Mullinax was born and raised in a rural suburb west of Atlanta, Georgia USA. He grew up in the 1980's in the epitome of the small town atmosphere where faith, family, and values are common and important. The Bible played a major role in developing his understanding of financial principles and how people should approach their money situation and well-being. After high school, he attended The Georgia Institute of Technology and graduated with a degree in Aerospace Engineering with no formal business or financial training. He learned real estate development as well as building and became a licensed Realtor and Residential and Commercial General Contractor in his twenties and continued to work in the Engineering field. He has been involved in multiple business ventures allowing him to have a unique perspective on pitfalls and opportunities that young people encounter in finances especially before reaching the age of thirty. He plans to continue to write targeted books focused on helping people realize their potential as it relates to money and finances but also in life as a whole. You can visit and become a member of the inckpen community on the world wide web at http://www.inckpen.com and as always reviews are greatly appreciated.
Where to find Mark Mullinax online
Books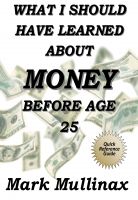 What I Should Have Learned About Money Before Age 25
by

Mark Mullinax
Don't make the same mistakes that over 95% of young people make when it comes to finances. If you prefer to listen and learn rather than live and learn this book is for you. Inside you will find guidance on home buying, insurance, student loans, investments, and much more that can save a ton of heartache whether you are just starting out in life or don't have enough money to waste on bad choices.
Mark Mullinax's tag cloud