Ivan Gutierrez, Jr
Biography
Ivan Gutierrez, Jr. was born in Miami, Florida. His professional background started at HQ Global Workplaces on Brickell Avenue from 1992-1995, a company which was later acquired by Regus Group Network in 2004. He also worked for Miami New Times newspaper as an Account Executive. Ivan started and operated a marketing and public relations company from 2005-08.

Ivan taught a course called "How Your Brain Works" in 1996 and now has now published his first book, "Infinite Brain: Going Beyond Space and Time with Your Brain" in 2014.

The author makes himself available to answer questions at infinitebrain@hotmail.com and Instagram: "infinitebrain".
Books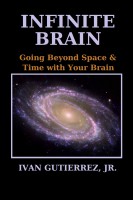 Infinite Brain
by

Ivan Gutierrez, Jr
Infinite Brain is an esoteric text which challenges you to answer the questions of what is beyond your physical realm - specifically, the mystery of your own existence. The experiences of the author tell the story of how a human-being can reunite with his home universe and feel the joy and ecstasy of unity consciousness.
Ivan Gutierrez, Jr's tag cloud