Greg Loper
Biography
A native of southern California, Greg Loper moved up to northern Alberta as a young man, seeking a quieter life and escape from his rapidly developing urban environment. He found work in a variety of jobs, including everything from pub waiter to trainman. His interest in writing developed incidentally, while pursuing a career in the unrelated field of electronics engineering.

Eventually resettling in California, he worked for several years in air quality management as quality assurance inspector. In the wake of a layoff, what had once been only fanciful dreams of world travel suddenly jelled into a workable reality. It took the form of a yearlong wandering expedition around the world, which left him with a journal full of travel articles. On return, he worked as an electronics technician and an emission test technician, traveling and writing in between jobs. He then expanded his writing to include humor and social commentary via satirical fiction. In our new global economy and over the years, his own and others' workplace experiences contributed to the background research required for A Lamb for the Money God. Still working, he is still traveling, still writing, still dreaming.
Books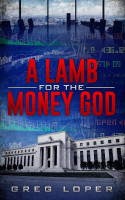 A Lamb for the Money God
by

Greg Loper
The story of America's economic development in a world driven by financiers, industrialists, and ordinary working souls is an ongoing battle of perspectives, with freedom meaning different things to different people. For Barney Sanders, freedom becomes a work-in-progress that ultimately takes the form of sacrifice in an absurd but disturbingly honest portrayal of the trappings of high finance.
Greg Loper's tag cloud