JT Ryder
Biography
JT Ryder is a black man who loves white women. He currently works as an Associate Professor at a major southern university, teaching a class called "The History of Sex and Sexuality in America." This popular class details America's history of sexual segregation between white women and black men and the many taboo sexual barriers that have been broken regarding black-white interracial sex over the years, especially since the civil rights movement. Every semester this class is in high demand, filling up within hours of becoming available. Interestingly, the student demographic of the class if often made up of young white girls and young black men who would've never been allowed to meet and intermingle in the same classroom over a half-century ago.

In his teenage years, Ryder was a nationally ranked basketball player and went to college on a full basketball scholarship. Since then, he has lived a very colorful life in a multitude of jobs. He has been a bar bouncer, a high school basketball coach, a guidance counselor, a sex therapist, and currently a professor at a major university.

Ryder has a Bachelor Degree and a Masters Degree in both History and Psychology. He also holds a Ph.D. in History.

His first book, the "Interracial Sex Blackbook," features many real-life stories of hot interracial sex between beautiful white girls and strong, dominant black men. It also showcases guides for white men on how to get the white women in their lives bedded by sexually-powerful and virile black men.
Books
White Virgin Bred by Black Stud: First-Time Interracial
by

JT Ryder
Crissy Olsen is a sweet innocent, eighteen-year old white virgin. She has grown up in a small town and her close-minded, racist parents begrudgingly let her date boys now that she's eighteen. However, she's only allowed to date nice, clean-cut white boys. At school, she's approached by Marcus -- the black star of the football team whom she secretly has a crush on. Will she be able to resist?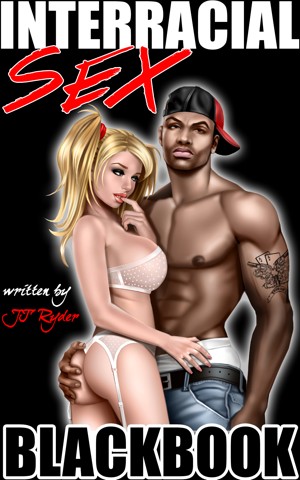 Interracial Sex Blackbook
by

JT Ryder
Do you enjoy seeing beautiful white girls seduced by strong, dominant black men? Let's face it: nothing in the world is hotter than interracial sex. Of course, I'm speaking namely of beautiful, innocent white women being dominated by confident, black alpha males! The Interracial Sex Blackbook features hot, scandalous 100% true stories & how-to guides to make gorgeous white women go black!
JT Ryder's tag cloud