inupinu
Biography
Dr. Rakesh Jain, Ph.D. Senior Clinical Psychologist has developed a novel form of psychological treatment for efficiently addressing Phobias and select cases of Obsessive-Compulsive Disorder (OCD). Cognitive Drill Therapy (CDT) is an outcome of his more than ten years dedicated efforts to develop innovative procedures to deal with various anxiety conditions. Currently, he is actively involved in applications, teaching and research on cognitive drill therapy specifically in phobic conditions. He conducts training workshops filled with on-the-spot demonstrations of the efficacy of CDT in anxiety disorders. He has so far conducted workshops on CDT in (a) Regional Institute of Education, Bhopal (b) Department of Psychology, Digamber Jain College, Baraut, U.P. (c) Psychowaves, Chandigarh (d) for MSKB College, Muzaffarpur , Bihar. He has co-authored three publications on CDT in Psychology Journals. Also he has drafted a manual for Cognitive Drill Therapy. This book is intended for both the therapists treating phobia and OCD and the persons affected with these conditions.
Where to find inupinu online
Books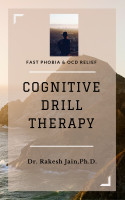 Cognitive Drill Therapy
by

inupinu
Cognitive Drill Therapy (CDT) aims at reducing stimulus bound anxiety specifically as seen in phobic disorders and Obsessive-Compulsive Disorders (OCD). CDT conceptualizes stimulus bound anxiety as having following four readily discernable components: (1) Objects of fear (2) Body-Mind Reactions (3) Safety Behaviours (4) Danger Thoughts. In short, these four components are called OBSD.
inupinu's tag cloud