John Barry
Publisher info
I was born in Cork and my family was involved in the tea business and I ended up in the property business in Dublin. I left Cork in 1975 and travelled around the world, working on a ship, where I started collecting stories always with a particular fondness for Irish stories. I hope they bring some light relief to the readers in an uncertain world. Without humour we are doomed. Nothing is more disposable than a joke.
Books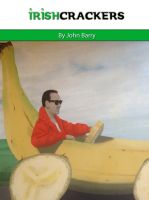 Irish Crackers
by

John Barry
(5.00 from 2 reviews)
This is a collection of my favourite funny stories that I have heard over the years. Some include real persons and you know who you are… I have always enjoyed laughing and when I hear a good yarn I try to remember it and now hope to share my funniest stories through this book.
John Barry's tag cloud