Trevor N. Iskander, M.D.
Biography
Dr. Trevor N. Iskander was born in 1930 in the United Kingdom. In 1954 he was graduated M.B., Ch.B. at the University of Birmingham and was entered in the British Medical Register. After completing his hospital internship in 1955, he practiced family medicine and obstetrics in Birmingham until 1966. He was a psychiatric resident from 1966 to 1969 at Ohio State University and earned his M.Sc. there in 1971. He practiced family medicine, obstetrics, and psychiatry in the U.K. from 1969 to 1975, then moved permanently to the United States. From 1975 to 1978 he was supervising psychiatrist for the Madison County, New York, Mental Health Department, then ran his own general psychiatric practice in Fayetteville, New York, from 1978 until his retirement in 1995. He has also served at Upstate Medical University since 1978 as Assistant Clinical Professor of Psychiatry and since 1981 as Assistant Clinical Professor of Family Medicine. He is a diplomate of the American Board of Psychiatry and Neurology and a member of many of the major British and American professional medical organizations.
Where to find Trevor N. Iskander, M.D. online
Books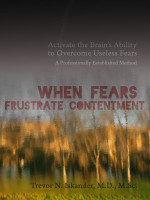 When Fears Frustrate Contentment: Activate the Brain's Ability to Overcome Useless Fears: A Professionally Established Method
by

Trevor N. Iskander, M.D.
Self-help for conquering stress, anxiety, and fear. "The Desensitization Hierarchy Method, described in this book, is a tool for managing change, but its users will always be in charge of deciding both what changes they want to make, and how much they want to do at any one time. The method is a bit like an automobile, a means of travel, the driver deciding where to go, and at what speed."
Trevor N. Iskander, M.D.'s tag cloud